10/12/18

AC Athletics: Coach Profile - Father Michael

Q: How did you receive word of your assignment to Saint Agnes Parish?

A: I was on pilgrimage in the Holy Land and received a phone call from Cardinal Sean O'Malley in Jerusalem.

Q: Your official title is Parochial Vicar, what does that entail and what is your role in the parish?

A: I do whatever Fr. Marc asks me to do. Sacramental Ministry - weekday and Sunday Masses, confessions, Baptisms, Weddings, Visiting and Anointing the Sick, Chaplain to Saint Agnes School, Cross Country Assistant Coach, Chaplain to Pro-Life Committee; coordinate RCIA and Adult Faith Formation; coordinate special events (Marian devotions, pilgrimages, retreats, youth events, etc.)

Q: As Chaplain at Saint Agnes School, what's your role?

A: Official "Good Morning" high five giver. Give blessings to students and classrooms. Give reflections at school-wide morning prayer twice a week. Visit classrooms and do Q&A on Catholic Faith topics. Weekly Bible-base morning prayer with the teachers. Meet with the Administration to discuss Catholic Identity. Monthly Masses and confessions. Monthly conferences with the teachers.

Q: Only a month in, but how's your experience coaching Cross Country at AC been?

A: I was a longer sprinter at BU, now I'm an out-of-shape long sprinter. I did a workout yesterday with the team and did 3 x 1 mile repeats around 5:40 pace. I think I could still do a 5 minute mile if I were chased by a bear. I'm excited for the track season to see how the sprinting goes, watching races still gets my adrenaline going.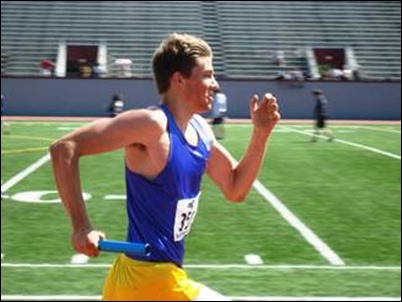 Athletic Profile from college years (https://goterriers.com/roster.aspx?rp_id=5749)
Q: As a former high school and college athlete what are you hoping to provide our student athletes here at AC?
A: I hope I can offer students at AC a passion for excellence. Becoming the best version of yourself means discipline and hard work, but also having fun and being a part of a team. Do your best and trust God to take care of the rest. These are lessons that help us in everyday life and our relationship with God.