06/04/20

ACHS Daily Update 6/4

Daily Update, Thursday, 6/4/2020

Good morning-

Our daily opening prayer at AC: Loving God, as I begin this day, help me to live my life to the best of my ability. To be open to those who love me. To respond to those who need me. To forgive those who hurt me. To be especially kind to others with my words and actions. And to appreciate the world in which we live. Saint Agnes, Pray for us. In Jesus' name. Amen.

Today is B Day. Students should complete work for Mods 6-7-1-2-3.

Today is our last day of 'classes'. Students may finalize and submit work through June 9th at 3pm. We will gather virtually for a closing Mass at 12pm on June 8th, streamed at www.cparl.org, please mark your calendar for this event.

We will send emails next week to wrap up the year.

The governor is reminding us that we are still 'safer at home.' Please continue to stay at home as much as possible. A reminder that the AC turf field and all Town of Arlington fields remain closed at this time. Student groups of any size should remain off any fields. The Police will disperse any violators.

We are exploring the options to clean out lockers in the safest way possible. Mr. Cobb will be in touch soon with information about this process; seniors will come in next week and other classes will follow.

Students/families have been emailed about schedules for 2020-2021. All change requests and questions must use the form and contact registrar@achs.net

-------------------------------------------------------------

Parish Announcements:
The priests of St. Agnes Parish are available to you. They can be reached at 781-648-0220 or their contact info is available at CPARL.org.
There are many resources and programs offered by the parish listed here.
Each day you are prayed for at the Facebook Live Mass broadcast from Saint Agnes Church each day at 12pm.
-------------------------------------------------------------
We end the year with this timely prayer from the United States Conference of Catholic Bishops: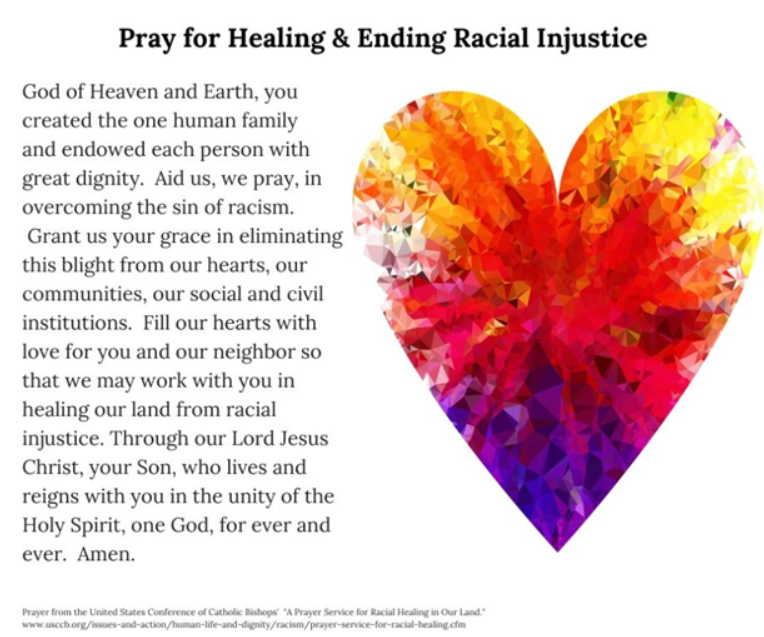 Blessings,
The Arlington Catholic Administrative Team